Amsterdam's newest coffeeshop opened its doors on Friday evening. Coffeeshop Strain Hunters opened September 18, 2020 with a special reception to showcase the new shop which honors the adventures and contributions of owner Arjan Roskam and long time partner Franco Loja, the "Strain Hunters".
KEEP READING FOR A PEEK INSIDE STRAIN HUNTERS.
Yesterday, shortly before 19:00, the first guests entered Coffeeshop Strain Hunters in Amsterdam. This coffeeshop, formerly the site of 420 Coffeeshop, is named for well-known cannabis strain hunters, Arjan Roskam and Franco Loja. The pair joined forces in the late 90s and gained international recognition as they traveled the globe uncovering landrace cannabis strains, developing top of the line genetics, and raising awareness of the many benefits of the cannabis plant.
Take A Peek Inside Amsterdam's Newest Coffeeshop, Strain Hunters.
Strain Hunters is located in Amsterdam Centrum, a short distance from Spui Square on the Singel Canal. This shop greets you with the atmosphere of a relaxing canalside neighborhood coffeehouse, an experience made complete by the tasty coffee and juicebar menu Strain Hunters offers. Inside of the shop, there is a small seating area in front of the shop's magnificent front windows which open to a beautiful view of the canal. Additional canalside patio seating can be found to the right of the shop's front door.
The shop's cannabis menu features a selection of cannabis frequently found at Greenhouse Coffeeshops as well as a selection of import hashes and space cake and stroopwafel edibles. Strain Hunters has also partnered with world class cannabis brand, Cookies out of Los Angeles, California, bringing Cookies' exclusive genetics to the Strain Hunter's menu.
Strain hunters is a brand well-known across the cannabis industry. In 2005, Roskam and Loja began to film their exploits and in 2008, the television series Strain Hunters premiered, later to be picked up by HBO. The series features the crew's journeys in Malawi, India, Morocco, Jamaica, Trinidad, St Vincent, Swaziland, and Colombia from 2008 until 2013. On January 2, 2017, Franco Loja passed away tragically while at work hunting for strains, putting the series on hiatus.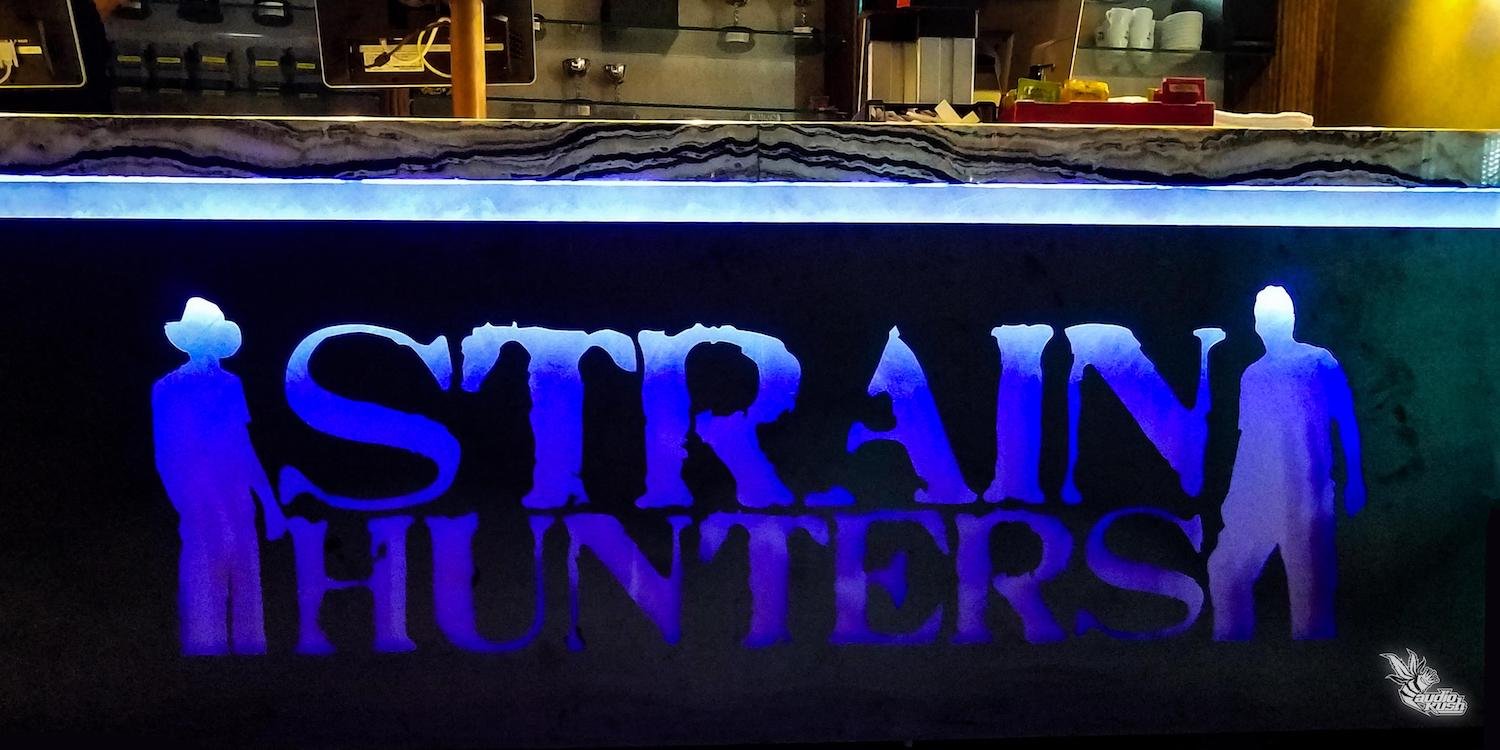 "For 17 years we had the best time of our lives traveling and growing in the most crazy parts of the world and spreading the message of cannabis. He was my soul mate, brother, partner, and best friend and foremost, one of the nicest persons I ever met. He changed the lives and perception of the cannabis plant for many people in this world. It was his duty to preserve this plant for future generations and make it acceptable all over the world, especially through our Strain Hunters documentaries. Life without him is nearly unthinkable, but knowing him very well, he only had one wish and that is that all of us will continue his legacy." Arjan Roskam said of his late partner.
Roskam plans to bring the Strain Hunters series back in the future to continue to educate the public regarding the complex and beneficial nature of the cannabis plant.
Formerly, the location of Dutch Flowers Coffeeshop, Strain Hunters Coffeeshop is located at 387 Singel in Amsterdam Centrum.
Zoe has integrated her background as social worker, event organizer, and scientist into the news and media lifestyle brand, Audio Kush, which she co-founded in 2018. An expat and travel enthusiast, she enjoys telling stories which explore society and delve into the mind. A major proponent of cannabis culture and the medicinal potential of marijuana, Zoe works to educate and normalize cannabis as a healing plant.