British Drum & Bass artist Andy C presents a new weekender, One7Four, a 3-day takeover in Amsterdam. One7Four takes place from 9th – 12th April 2021 at various venues in Amsterdam. Of course, it wouldn't be a complete Amsterdam trip without a visit to the coffeeshops, and the weekender will also include boat cruises and intimate hotel parties. Andy C has selected a top tier lineup of performers, and he will be performing multiple DJ sets over the course of the weekend. You can check out the entire lineup below.
Tickets and accommodation packages are available now.
Accommodation
Hand-picked lodging accommodation include 4 different tier options; Luxury, Premium, Standard, and Basic. Hotels like Arena Hotel, Q Factory, Bunk, and The Bulldog are included in these packages. Prices range from £189 (per person) for a hostel room to £449 (per person) for a 2-person suite. All prices include event tickets.
Transportation costs are not included.
Artist Lineup
Andy C has selected a premiere list of Drum & Bass artists to perform at One7Four weekender in Amsterdam. Of these producers and DJs you can expect to hear sets from Annix, Bou, Break, Bryan G, Dillinja, Doc Scott, Ed Rush & Optical, Harriet Jaxxon, Koven, Levela, North Base, Randall, Taxman, The Prototypes, Upgrade, Voltage, amongst many others, including special guest Wilkinson. Andy C will also be performing multiple sets across the 3-day event. Host MC Tonn Piper will be joined by 2 Shy, Adapt, Carasel, Connec, Eksman, Felon, GQ, and IC3. You can check out the full lineup for One7Four weekender in Amsterdam below.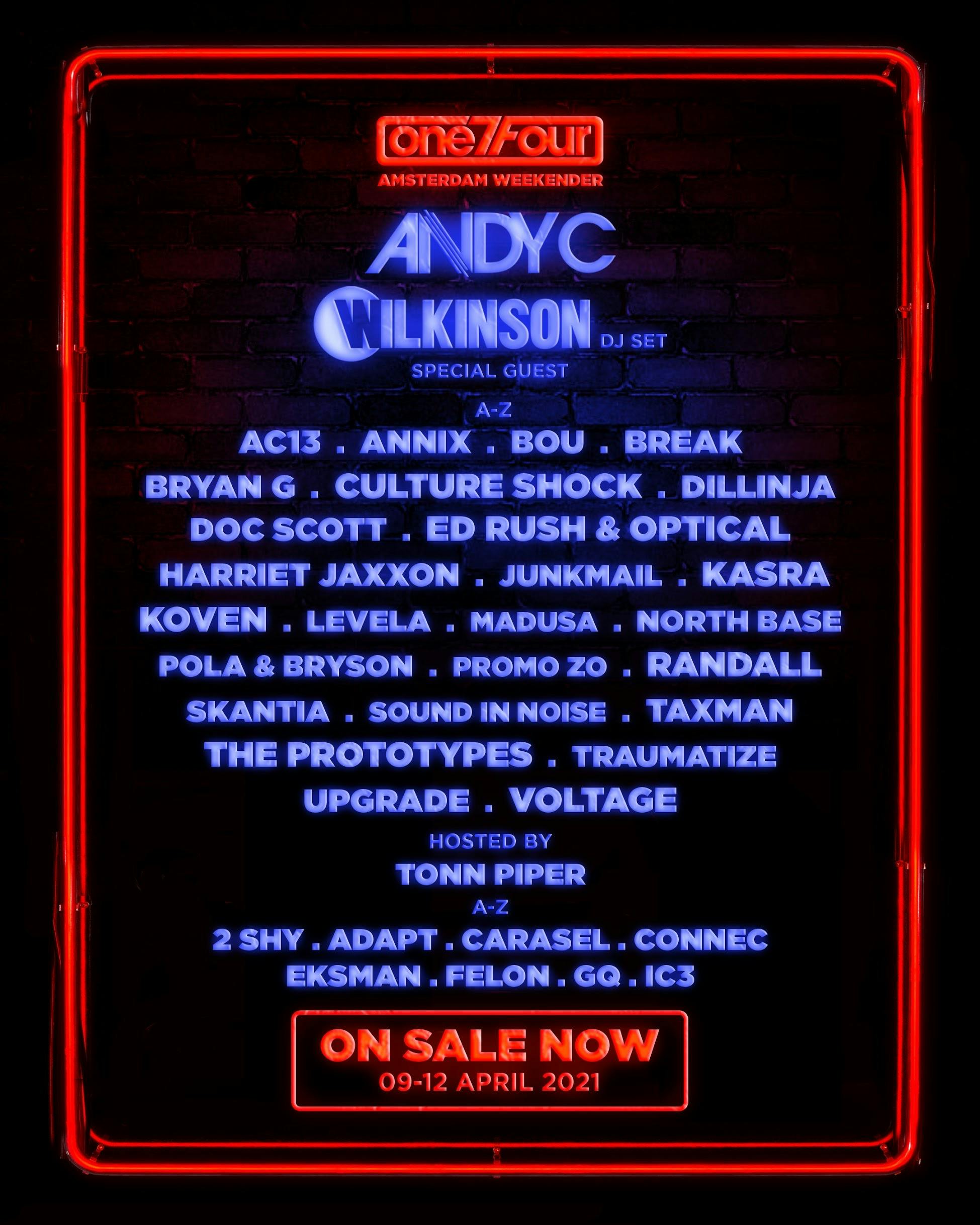 Tickets for Andy C's One7Four weekender in Amsterdam are on sale now and can be purchased online at Pollen.co.