Valentine's Day, the day of love approaches in Amsterdam, a city known for its naughty nature. This is a perfect time to unwind and enjoy the day with these romantic activities!
1. Excite Your Senses With A Chocolate Tasting
Amsterdam is home to delicious sweets and chocolate is no exception! Sample delicacies at specialty shops like the exquisite Puccini Bomboni and the Pompadour Chocolaterie and Tearoom or head to the crowd favorites, such as the Cacaomuseum or Tony's Chocolonely flagship store in the Westergasfabriek region to expand your chocolate palate with both Dutch and international sensations. They say that chocolate is one of the greatest aphrodisiacs.
2. Stop & Smell The Blooms at the World's Only Floating Flower Market
Take a stroll through Amsterdam's famous Flower Market, where the delightful smell of the fresh blooms promote relaxation and bring people closer together.
3. Enjoy Romantic Music & Art
Amsterdam is the home to many residential and touring music and art exhibitions. February is host of many art openings and concerts with romantic, sensual themes, perfect for the day of love!
Smoke Weed While Browsing Vintage Urban Photography
During the months of February and March, you can visit Coffeeshop Siberië to view an exhibit featuring 15 historic photos of urban life in Amsterdam in the 1980s. These photos are printed on photographic baryta paper. Come pick up some hash or flower & enjoy the sights of the 1980s through the eyes of urban photographer, Judocus. 
Location: Coffeeshop Siberië, Brouwersgracht 11 in Amsterdam

On Valentine's Day, Amsterdam's Rijksmuseum opens a new exhibit exploring the passion and emotion behind Baroque art, featuring the works of painter Caravaggio and sculptor Bernini. Baroque ideals of passion and sensual pleasure make this a a perfect complement to Valentine's Day.
Location: Rijksmuseum, Museumstraat 1 in Amsterdam
Price: €19, discounts for students
Kick Back to Romantic Favorites at the Royal Concertgebouw
The WDR Funkhausorchester of Köln performs classical love songs and film favorites including music from composers such as Ravel, Tchaikovsky, and Beethoven and features including A Room with a View, Love Actually, and Pocahontas.
Time: 20:15 on 14 February 2020.
Location: The Royal Concertgebouw, Concertgebouwplein 10 in Amsterdam
Price: €36+
4. Share a Kiss on the Magere Brug
Legend says that couples who share a kiss on the Magere Brug (Skinny Bridge) will be in love forever.
The Amsterdam Forest is 3 times the size of New York's Central Park and is located near the center of Amsterdam. Enjoy a romantic stroll, relaxing row, or delicious lunch in this enchanting woodland getaway.
6. Explore Amsterdam On A Bicycle Built For Two
Cycling is the heart and soul of Amsterdam. One quarter of Dutch people bike daily and in Amsterdam, bicycles outnumber people. A tandem bicycle ride is a new way to enjoy the city's cycle culture with the one you love!
Bicycles built for two can be rented across Amsterdam from many retailers.
Price: €16 average.
7. Enjoy A Gourmet Coffee & A Smoke In One Of Amsterdam's Famous Coffeeshops
Amsterdam is home to over 160 Coffeeshops. Many have peaceful spaces to relax and enjoy a smoke and drink! Many shops also have special giveaways in honor of Valentine's Day.
8. Experience The Art Of The Nude Painting
Paint the human form with the help of an experienced instructor? Better yet, learn to paint your lover. When in Amsterdam….
Cost: €29.50+
9. Why Not Get Married For The Day?
"How does it feel to get married? Do you want to let your love know how important he / she is for you? Give each other the YES word for 1 day! We take care of everything, you only have to make a reservation. And when your dream has come true, you step into the famous 9 streets of Amsterdam!"
10. Visit The Venustempel Sex Museum
The World's first and oldest sex museum is the Temple of Venus in Amsterdam. Bring your Valentine to explore centuries of erotic artifacts.
Location: The Venustempel Sex Museum is located at Damrak 18 in Amsterdam
Cost: €3
11. Provoke A Meaningful Conversation With A Live Event
It is truly incredible that Amsterdam has such a diverse number of live talk and discussion events. Here are some cool ones to consider.
Valentine's Day Under the Stars
Artis biologists and astronomers discuss love in nature, ranging from microbes to the cosmos.
Time: 20:00
Cost: €12.50
Location: Artis Planetarium, Plantage Kerklaan 59I in Amsterdam
Partners in Crime Valentine's Comedy Event
Head to Boom Chicago for a fun night including a dinner, drinks, Valentine's Day quiz game and special Valentine's improv comedy show.
Time: 18:30
Cost: €29,50+
Location: Boom Chicago, Rozengracht 117 in Amsterdam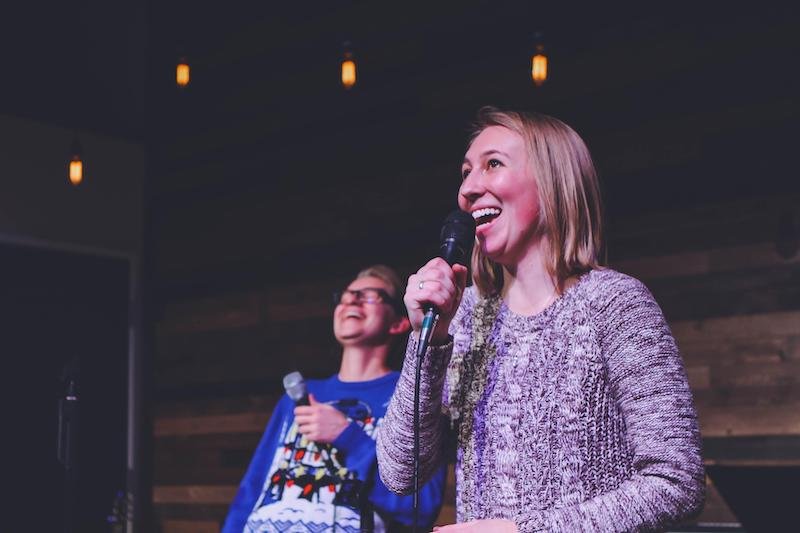 12. Unwind With A Candlelight Canal Cruise
There are many to choose from all over the city!
13. Share A Romantic Moment On An Illuminated Canal
There are many of these peaceful pathways near the Anne Frank House in Central Amsterdam near Prinsengracht and Westerkerk.
14. Browse The Condomerie For Your Late Night Needs
A short walk from Amsterdam's famous Bulldog Coffeeshop and The Oude Church is Amsterdam's Condomerie, a specialty shop where you can find condoms of all kinds to suit your Valentine's Day needs! Wether you are looking for protection, sensation, or a good laugh, the Condomerie has you covered, literally.
The Condomerie is located at Warmoesstraat 141 in Amsterdam.
Still Not Satisfied?
Explore the Red Light District.
This one of a kind experience made its debut in Amsterdam last March and promises to satisfy all of your senses. 5D Porn Cinema takes our beloved screen-based amusement ride experience to the next level with moving seats and enhancements to appeal to viewers smell and touch with features which include timed air and water jets. Certainly this would make for an interesting Valentine's Day experience!
Location: 5D Porn Cinema is located at Oudekerksplein 18 in the Red Light District of Amsterdam
Price: €12.50 for the 6 minute experience
Amsterdam's Last Peep Show
The Sex Palace in the Red Light District is home to Amsterdam's Last Peep Show. There used to be at least 6 peep shows in Amsterdam, but due in large part to the rise of internet pornography, only one of these establishments remains. See it while you still can!
Location: Oudezijds Achterburgwal 84 in the Red Light District of Amsterdam
Price: €2 for 2 minute peep show, more available
You truly get the full Amsterdam experience at Bananenbar. Bring your Valentine to an erotic show they will never forget. 
We hear it involves bananas…
Location: Bananenbar  is located at Oudezijds Achterburgwal 37 in Amsterdam
Price: €45 Bar, €10 Club
Join Audio Kush and Girly Weed Sesh in Amsterdam on Valentine's Day 2020 for a smoke session at Coffeeshop Catch 33. The evening will include a variety of Valentine's Day and cannabis themed events including rosin pressing, a dab station, edibles, and stoner games and competitions!