Mars Wrigley sues TerpHogz LLC., the creator of marijuana strain Zkittlez, with infringement violations of their registered trademark Skittles. On Monday, May 3, 2021, lawsuits were lodged to stop any Zkittlez-branding, including cannabis, infused edibles, paraphernalia, clothing and other commodities. "The lawsuit is intended to stop the illegal and dangerous misuse of its world-famous trademarks," Mars Wrigley states in a press release. These proceedings were filed in two United States federal courts, Illinois and California, as well as in Canada.
Mars Wrigley has filed a lawsuit against the marijuana brand TerpHogz LLC. for not only trademark infringement, but also false designation of origin, unfair competition, trademark dilution, cybersquatting, and other related claims.
What are Trademarks and what is a Trademark Infringement?
Trademarks separate one merchants products or services from another, taking several forms. These include phrases, slogans, logos, patterns, colors, and sounds. Think of the Nike Swoosh or McDonalds Golden Arches, these are trademarks. Trademark infringement occurs when a brands registered identity, or trademark, is mirrored by a copycat for their own gain. Unauthorized use of a trademark on or in conjunction with products and/or services in a way that is likely to create misunderstanding regarding the origins of the goods and/or services is referred to as trademark infringement.
Skittles candy owner, Mars Inc. sues Zkittlez creator, TerpHogz
The Skittles manufacturer sues creator of Zkittlez, demanding restitution from Terphogz and its resellers. A press release states, "Mars Wrigley took legal action in both Canada and the United States to send the illicit cannabis industry a strong signal to stop illegally using the company's brands and products".
Due to "bearing an extreme likeness", Mars Wrigley demands a permanent order prohibiting the selling of all goods bearing the Zkittlez trademarks. They also have requested the return of any products or services bearing the trademarks.
Queue the surge of short-term job applicants at Mars.
Furthermore, Mars Wrigley asks TerpHogz to transfer over the domain, zkittlez.com, and cease operations of their social media accounts. It would appear that their intention is to use the Zkittlez domain as a re-direct to skittles.com (which is merely are-direct to their twitter). Mars also requests that TerpHogz withdraw its Zkittlez trademark application for Zkittlez Hemp. TerpHogz uses the hashtag #taztetheztrainbro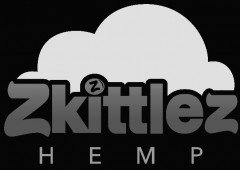 The Zkittlez trademark application states how the letter "Z" is placed inside the dot of the letter "i" on their logo, which is quite similar to Skittles branding. I will discuss the background of Skittles' trademark shortly.
On November 22 2019, Terphogz filed for trademark applications for Zkittlez. Just six months later, Mars Incorporated had filed an opposition.
What is a filed opposition?
An opposition is an appeal against the approval of a recent trademark, or in this case, a trademark pending approval. A trademark owner may file an opposition to the registration of a newer trademark, in the event that it is is identical or very similar to that of their previously registered trademark.
Skittles Trademark Background
Skittles, is a registered trademark owned by Mars Incorporated (as WM. Wrigley Jr. Co.). Originally registered in 1982 for candy, the trademark has been re-registered a number of times, for various other products including lip balm and even duct tape.
In 2012, Skittles was refilled and registered in 2013 with further details regarding the design. This laid out in detail how inside the dot on the top of the letter "i" was an "S", and how the typeface sits overtop a distinctive rainbow. This further created more brand recognition between the Skittles candy and its logo. The letter "S" is stamped on each piece of Skittles candy. In 2016, their iconic, upside down rainbow was registered, with no text over top.
Over the past year, Mars has filed new trademark applications for Skittles. In 2020, the company filed to register the Skittles brand for clothing, shoes, and apparel. Most recently, on April 21, 2021, Skittles filed another trademark application. This time for use with a new line of energy drinks and fruity beverages.
Zkittlez, An Award-Winning Marijuana Cultivar
Zkittlez is an award winning, indica-dominant hybrid cross of Grape-Ape and Grapefruit with an undisclosed strain. Originally developed by Terphogz, the Zkittlez cultivar has been recreated and supported by a variety of breeders. One of the most noteworthy of these breeders is Dying Breed Seeds, who helped shape the popularity of Zkittlez.
The Zkittlez strain has been used to create hundreds of new, high-demand marijuana cultivars, including Runtz, Rainbow Belts, Sorbetto, Banana Zkittlez, Watermelon Zkittlez, KmintZ, and Lots of Zkittlez.
Zkittlez has won several reputable awards over the years. Of these include 1st Place Neder Hash at Jack Herer Cup Amsterdam 2019 (for Coffeeshop Family First), 1st Place Outdoor Flower at The Emerald Cup 2016 (for The Dookie Brothers), and 2nd Place at Spannabis 2018 (for The Plug BCN).
Can You Still Get Zkittlez Cannabis Products & Seeds?
You may be asking yourself, "what does this Skittles sues Zkittlez ordeal mean for me?"
There's several different breeders who have created feminized, regular, and even autoflowering Zkittlez seeds available to purchase. This means there's no way that the heavily grape fueled Zkittlez genetic will ever die. The strain will likely get rebranded, like we saw happen with GG4. For now, you can still purchase Zkittlez seeds online and flower at dispensaries and coffeeshops.
Check out FastBuds for some great Autoflowering Zkittlez seeds (ships only to Europe and UK). If you are in other parts of the world, browse the Zkittlez strains available at Rocket Seeds. You can select from a feminized seeds and even a CBD dominant version.
My Final Thoughts On This Matter
We all knew some day was bound to occur. When GG4 (aka. Original Glue) was forced to take action for unlawful breach of the Gorilla Glue trademark, a warning should have been sent throughout the industry. Unfortunately, this did not happen. We continue to see copyright infringement all over the cannabis and hemp industries, all over the world.
While, Infringing on a trademark may help boost a new products presence initially, you have to remember the repercussions that can arise. Moral of the story. Be original and don't be a lemming. Stop copying other people and be unique.
I will be following this case closely, so make sure to check back for updates.